From the smallest car, to the largest truck, we certainly have leather material to fulfill your needs!
AfterMarket Industries' leather program offers the largest selection of automotive Original Equipment (OE) colors and grains in North America. In addition to our Original Automotive Leather Program, we have the ability to run custom colors for our clients' needs.
As an ISO 9001 certified company, quality and delivery are of the utmost importance. AfterMarket Industries supplies leather for automotive OE service companies, seat cover manufacturers, limousine manufacturers, and over 150 automotive aftermarket distributors covering all of North America.
Custom perforation is available for either your product or ours. Please see Perforation Page for specifications and options available.

Largest variety of OE matched colors and grains in the aftermarket leather industry. 50 OE Colors and 26 OE Grains
Leather for Ford, GM, Chrysler, Toyota, Honda, Nissan, and Heavy Duty Trucks.
Custom automotive and prototype runs upon inquiry.
Full-hide, half-hide and cut sections. All sizes available in plain or perforated.
Same day shipping and delivery accessible in many instances.
Long-term relationships with OE manufacturers and suppliers ensure that we're up-to-date with colors and grains being used in current production and upcoming model year vehicles.
Custom colors can be run in either furniture, or automotive finishes. Contact us for further information, or to start the process for your customized leather.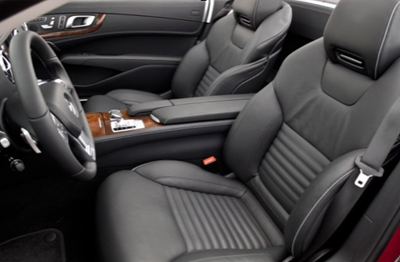 Download the Latest Leather Sample Chart
You can download the Latest Leather Sample Chart to view the vehicle makes and models for which we supply leather material.